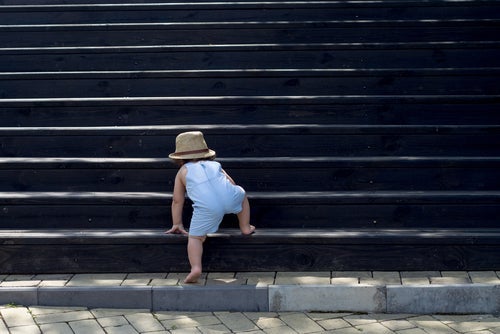 A lot can happen in a few short years. One day you are living the single life in Vancouver, enjoying the infinite selection of quality sushi restaurants and sunny patios, the next you are raising children and renting or (hopefully) owning a condo in "the burbs". Life has definitely changed. You are probably a little sleep deprived, with Lego and L.O.L Surprise Dolls strewn about the living room, Netflix Kids and Treehouse having replaced Game of Thrones and Breaking Bad. Regardless, it's a good life you are living, even though you may require copious amounts of caffeine to get through your day.
Priorities certainly change when couples start families. That once spacious sparkling starter condo - it just doesn't feel as big as it once did. Like the garbage compactor scene in Star Wars, the walls start closing in. Families grow and condos literally shrink before our eyes. So what next? 
For those who already own a condo, values have increased rapidly over the last few years. According to the Real Estate Board of Greater Vancouver StatsCentre, the average sales price of condos in Port Moody Center has risen from $328,000 in January 2015 to $577,000 in May 2018.  And if you have equity, you have options. 
There are many exceptional areas in the Lower Mainland, but for families, two of the most desirable neighborhoods are Heritage Mountain and Heritage Woods. Tree-lined streets framed by spacious Whistler inspired townhomes and Craftsman-Style single-family homes are ideal for families that don't want to move east in order to gain additional living space. These neighborhoods fall in the catchment areas of several coveted schools including Heritage Mountain, Aspenwood Elementary and Heritage Woods Secondary. 
Also increasing the appeal for families, these neighborhoods benefit from enhanced transit service. In fact, residents now enjoy transit service from 4:30 am to 2:00 am.  This makes it is possible to stay connected to work, entertainment and everything else the Tri-Cities offers without the need for another vehicle.  With convenient bus routes connecting commuters to the Evergreen Skytrain and West Coast Express Stations, it makes eliminating a secondary or primary vehicle a realistic option. This translates to large cost savings that could be redirected toward a mortgage on a larger home or an annual family vacation. Cruise ships offer full-day child care programs…just saying! 
The reality is, there is no time like the present to use the equity you have built in your current home to move your family up the next step on the real estate ladder. Check out my featured listings for townhomes and single-family homes currently available in Port Moody. Now is the time to look at detached homes as they continue to trend toward buyers' market territory. A larger home will afford families space they need to grow comfortably because we all know, those "little" ones won't stay little for long. 
If you'd like more information on these neighborhoods or other areas in the Tri-Cities, please contact me at your convenience.